From Out Through Within
And so another fold in the eternal cloth woven by the Great Chain itself takes form. Guided by the previous link that its own nature forged the fold becomes static, solidifying into the spirit realm's permanence. - from the teachings of the Ash Cat Elders.
Stargazer
High Priestess Zara, Sage of the Bright, Stargazer, Sage of the Shadows, Watcher of Threads, Pathfinder of Knowledge. A very good friend of Khan Pyry, she has been a key architect in the Khan's interactions with the spirit world. The number of souls who follow her teachings attest to the strength of her mind while their numbers are rivaled only by those who fear her and see her as a threat.
Eyes of the Hunt
The eyes of Kyllikki. I decided to make a small adjustment to her fur markings under the eyes and extended the scars a bit but it's pretty close to the previous incarnation of the brave wolf archer.
There's Always a Bigger Fish
In my comic, Eternalfold, the sea goes on forever and the further out you go the larger the creatures and waves get. This little galleon sailed too far from shore and has attracted the attention of a rather hungry eel.
I pictured the eel as a kind of mobile island with all sorts of algae and coral growing on its scales. It's difficult to see in the digital version but all those little dots around the eel are various sea life that live off of their host and the other things that the eel hunts. This particular type of eel can grow quite large - over a mile in length but is usually found between 2000 and 4500 feet long. They are also known to be very aggressive and will attack creatures larger than itself but fortunately they ignore anything that's smaller than a mid-sized sailboat.
Persist
"Demons are harrowing foes and those who remove them from this world are even more dangerous. Never stand between them." - Master Librarian Mielikki.
Pointed Delineations
"... the first bite is rapid with long teeth like a snake's fangs."
Pony of the Munros
The ponies have garnered much renown for being as immune to the frosts as they are to cutting blades.
Embrace the Crazy
... she suggested, running her gaze further up the ruins.
A Guide
I made this one for Further Confusion 2018. Maybe it's not quite from the movie's world but there's a guide being written and it's about where to find some furtastic beasts.
Sandhill Scout
An entry for a local art contest inspired by a few things from the Central Valley Delta but I've taken some artistic liberties with them.
Oskari
Oskari is one of the heroes for a world I've been slowly forming in my head, called Eternalfold for now. If he was fighting he would be wearing more armor than just a loincloth but he's just practicing here and I wanted to show some of his markings. An expert at javelin throwing, nimble sprinting, and fighting with a spear he has an amazing talent for precision regardless of the terrain or circumstances. He's often sent to work deep in enemy territory either alone or with a small team to map out the dangers and he has developed quite the reputation for avoiding detection and surviving against seemingly impossible odds. Nearing the twilight of his prime, he's a veteran of many dangerous scouting missions but still has a lot of youthful vigor. Oskari has a very introverted and gruff demeanor which can make him difficult to interact with but he can be quite friendly and loyal to the death for those he trusts.
Slavoj the Humbler
A long time ago Slavoj the Humbler was a Knight who specialized in dealing with the Realm of Spirits. Called the Humbler by many demons Slavoj has carved out a reputation for being unnervingly quiet before dominating his opponents in duels. Demons typically love talking and they are full of nervous energies and out sized egos. What many don't talk about is how Slavoj has corruption mutating his body with hardened root like growths. The larger growths working their way through his jaws and around the tongue make it very difficult to talk, painful even. He prefers to let ritual combat end any disagreements the spirits have with his actions.
Mushroom Man
"This guy here is called Kxedikamentuthx. I know this jumble of letters seems quite odd but it should be noted that it is a rough translation since this demon's language isn't supposed to be communicated through sound alone. I prefer to call him Mushroom Man, after his affinity for attaching large adornments to his head and his generally fungus-like properties. He's from the Second Circle of the spirit realm and so he has a peculiar mind that values secrets above all else. He can't remember any common knowledge but he retains someone's secrets indefinitely. Communication can be tough for those without patience though. He talks entirely through poems and fables." - Master Librarian Mielikki.
Atishkva
Atishkva is a greater demon of the 7th Circle of spirits. True to the reputation of the 7th Circle his actions both help and hurt the mortal creatures of this world at the same time. Along with Kxedikamentuthx and his brother Bahaatahvla, Atishkva currently aims to dismantle Khan Pyry's library, sow confusion and divide up Pyry's empire into more conquerable chunks for his fellow conspirators.
Hook
A Roper installing a climbing path up the cliff side near Anneli's Claw. Done with a Tachikawa steel nib pen, Deleter black ink no.4, a brush pen and a white Gelly Roll pen on smooth bristol paper.
Inktober 2017 Warrior
Although I'm not doing Inktober this year I had to draw at least one anthro with just ink. Drawn with a Pilot High-Tec-C, a Faber-Castell PITT, and a Gelly Roll pen containing white ink.
Throne Guard
The typical uniform of security forces protecting the Citadel of the Unyielding Guardian. In the gigantic main hall that runs the length of the citadel people seeking an audience with the king wait for weeks sometimes and end up camping right in the hall (unless, of course, you happen to have enough prestige to get an actual room). The guards spend most of their time policing these visitors but are more than ready to defend the citadel against both common and demonic invaders. Large venomous snakes are bred and trained to aid in discouraging aggressive behavior around the king. Prayer scrolls in demonic languages are often attached to the wrists, chest and face to help ease tensions should an other worldly visitor show up.
Equine Acolyte
A faithful temple servant of the greater Kthkrrdlla. The crazy hair and tusks are a common example of physical transformations that take place among the most devout followers. Some receive much greater transformations and end up becoming unrecognizable from their origins while others vanish into the spirit's realm to an uncertain fate.
Goran's New Scar
Goran showing a few new long scars on the left side of his face and the early stages of demonic transformation. Although the spirit attempting to possess his body won't let him perish from physical harm Goran still grows lumpy thick scar tissue over the more severe cuts and punctures received in his many battles.
Kyllikki's New Hair
A new coiffure for Kyllikki. Done entirely with pencils and pens on watercolor paper.
Kyllikki the Huntress
One of the main characters for my little fantasy comic wing bone. Kyllikki is an experienced demon hunter like Oskari and Goran. When she was only 8 her village became the target of a cultist uprising and most of the village was killed in the resulting violence, reducing her family to just Kyllikki and her father. During that uprising she also received the scars around her right eye when a demon attempted to possess her. Although the injuries blinded her eye to this world they opened it to the spirit realm and she can now see through any disguise a demon or spirit might create. This special vision also allows Kyllikki to decipher a demon's intent, most of the time. The bow beside her is a family weapon and has been passed down through the generations for hundreds of years. It's carved from the wing bone of a dragon which gives it ridiculous strength and flexibility for the light weight. Kyllikki is one of the few who knows the secrets to keeping dragon bones flexible enough for use in bows. The curious properties of dragon bone gives the bow an unnatural amount of force behind the projectile despite a manageable draw weight. In the hands of a trained archer like Kyllikki this bow commonly sends its arrows through multiple targets and any buildings behind them!
Kyllikki's Trophy
A little digital painting of Kyllikki and her family's bow Zvi's Dissolution. Done with a combination of Procreate and Photoshop.
Kingfen
A gigantic toxic snail from the world of Eternalfold, my little fantasy world. The snails feed on most of the swamp vegetation and live for tens of thousands of years; worshiped by the local cultures as divine messengers. As they slowly move about their path is charted over the years and its shape is used to try and determine the god's wills, often leading to much debate. You can see the rotting remains of lanterns, coins and trinkets from past ceremonies still hanging from the branches of the tree on its back and its shell is marked by some religious carvings. Typically they have a large tree growing on the shell and the flowers that grow around the center of the shell are used for creating poisons and powerful hallucinogens. Despite being large and slow not many other creatures feed on or live near these snails since they secrete an insanely poisonous slime. If injured or threatened they have been known to shrink into their shells and not emerge for a hundred years.
Ibex of the Munros
An ibex warrior carrying the distinctive cake-pop shaped mace used by her tribe to defend their herds against large demons and predators. This one was done with a Pilot Hi-Tec-C pen and a white Gelly Roll pen on smooth bristol.
The Scout
A classic example of a mounted scout used by the forces of Khan Pyry. Nimble and intelligent, these creatures are easy to train and often form life long bonds with their riders. The springy fibers and straps tied to its tails help deflect missiles while retreating and make blocking a tail swipe more of a challenge. Done with a Hi-Tec-C pen, a Precise V5 pen, and a white Gelly Roll pen on smooth bristol paper.
Auriculae's Neuroworms
Even Auriculae was not comfortable in the pit of their nest. Possibly the most challenging stationary hunt you could appease the spirits with unless, of course, you enjoy swimming through a flood of stinging worms.
Dreamfish
A graphite drawing of a deep sea fish. Typically they're seen at night when they rise closer to the surface to feed on other nocturnal creatures. Stories among fishermen talk of how they descend so deep they swim into a dream world and feed on our dreams through their many eyes. Some believe that when prepared correctly the flesh of this fish can deliver the dreams it has been feeding upon to whomever consumes it.
Thread's Origins
Everything happened just so that despite having attentive parents a young Khan Pyry found himself alone in the crowd. Face to face with something far older than the worn cobblestones of the market. To this day the Khan will not say which words the tall figure planted in his head. Priests and sages thoroughly scoured Pyry's spirit but found no corruption or even benign influence. It was an event that supporters use as evidence of Pyry's greatness and his foes use as evidence of why he can't be trusted. For all the stories and rumors that this meeting spawned very few ask about the identity of this figure or what his purpose was.
Bugdarter
The Bugdarter is a little field-dwelling bird from Eternalfold. The females don't have the long crest and tail feathers but they can change their color to roughly match their surroundings. Bugdarters are commonly raised in colorful cages to induce interesting colors and patterns in their feathers, which can then be used for decoration. The eggs are quite tasty too.
Dragonslate
A custom dragonfly painted on a slate tile. It's hard to tell from the scan but I chunked up the paint and covered it with wet-look sealer to give it a shiny raised look.
Goran the Stubborn
The icy wind made little impression on Goran's battle-hardened surface as he peered into the oncoming storm. Comfort is a relative thing, and after a life of hunting some of the most foul the supernatural has to offer a bit of cold air is nothing. Watching the darkness approach filled him with a sense of purpose. His guild has been destroyed, his family hasn't seen him in decades, he has no mate, but he has resilience. Goran does not fight for something or someone he fights against hardship just because it is there and so is he. It is the nature of the warrior.
Goran
Goran is one of the main characters for Eternalfold (a world floating about my dreams). He's the leader of a little three-beast demon hunting squad with childhood friend Oskari and Kyllikki the one-eyed wolf archer. He would be nearing the point of retirement if he hadn't been possessed by a spirit of war during a particularly violent battle in which he was the only surviving soul. The spirit is attempting to take over his mind and use his body as a vessel to travel about in the realm of mortals but Goran is too much of a stubborn SOB to give into the spirit's wishes and instead fights a constant battle to suppress it. He used to be a cheerful joker but the efforts have left him quite stoic and humorless, almost depressed. However the spirit's presence endows him with a ridiculous amount of strength and physical toughness. The kind of toughness that allows him to catch ax blades in his hands while only suffering minor cuts, pick up stones bigger than his body, and fall for hundreds of feet onto rocks and not suffer any broken bones.
Sentinel
Sleeveless overcoats and five spiked headdresses are common among sentinels who guard the central mountain paths. They take pride in navigating steep elevation changes without any equipment or ropes aside from a multi-bladed halberd. Always watching at all hours, any weather, they maintain a constant number of sentinels per section of road recording activities. Their other function is to tease out the abilities of hostile forces. Giant traps, false assaults and fake encampments tempt invaders into revealing their tactics before the sentinels evaporate into cold mountain air.
Torleif the Spine
The bears of the northern coasts have a long history of warhammer-wielding fighters and a reputation for mixing outbursts of terrifying violence with a stoic demeanor.
Lightcatcher
An acolyte from Temple of the Brights collecting light wisps for a local ceremony.
Georgic Bear
A farmerly type from my Eternalfold world. The pose was inspired by Jean-Francois Millet's 'the Stubble Burner'.
Bibliognost
A librarian/scholarly type from my Eternalfold world.
Master Librarian Miellikki
Master Librarian Miellikki is one of the founding curators of the Light - the greatest body of knowledge assembled concerning the spirit world. Along with Khan Pyry, the twenty three groups controlling the Vein, and countless agents of information Miellikki has managed to build a lethal threat to the spirit's dominance over mortal creatures. His greatest fears are spirits and secrets. He desires a weapon to fight those fears and feels a body of knowledge that will outlive generations is the best way to carve out a stable space for mortals. Living up to the reputation librarians of the north have Miellikki doesn't sleep very much and can often be found hosting tea-fueled discussions about spirits and philosophy late into the night with whomever happens to be there.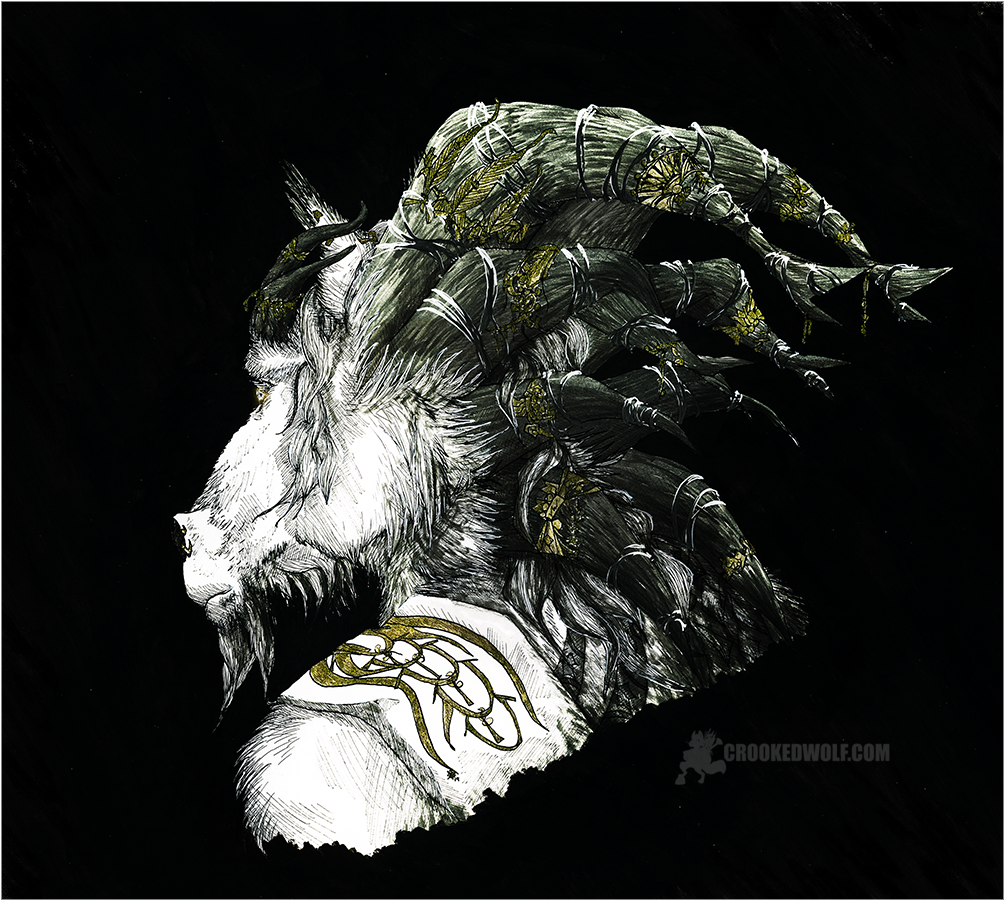 Tethers
Often mortals adorn their horns, ears, nose, and eyes with blessed jewelry to act as a beacon in the spirit world. Their spirit's shadow or echo is much easier to define with these markers helping any monks or deceased family who travel this space. Time and physical space aren't important in the Radiance Immeasurable, the connections between those you know and the ones who have an effect on you are the most stable pieces of that realm. Monks travel by using these connections as anchors they can tether themselves to similar to the way an astronaut spacewalks. Without these tethers travelers can shift so rapidly it quickly becomes impossible to find their way back. The blessing of this jewelry isn't complicated or time consuming but it must be done properly. The most important aspect being the piece should be truthful to the mortal's desires or they risk becoming a target of the Sixth Circle - the devourers of impure hearts.
Tranquility of the Radiance Immeasurable
These monks are twin-tailed explorers and scientists of the spirit world and all of its resident intelligences. Often they are diviners of the spirit's wills and their opinions carry a great deal of authority, sometimes even controlling kings. A few of the monks remain spiritually neutral and instead observe and explore as simple travelers while most monks are adopted by the more powerful entities to enlist mortal followers and to establish a link to the mortal world since no spirit can leave its domain. Nearly all of the major religions are formed around a monk or group of monks that bring a major spirit's presence or mind into the world. Depicted here is a monk in mid-trance, projecting her consciousness into the spirit realm while her physical form becomes unaffected by the forces in the physical world. Thus the levitation and glowing eyes devoid of pupils. The spirit world is frequently referred to as 'the Radiance Immeasurable' by religious texts.
Outrider
These small rough dragons are the most commonly ridden variety of dragon by scouting parties and explorers. These creatures are highly prized for their trainability and astonishing endurance, often going weeks between meals. Like other dragons they never die of old age or stop growing but the growth rate slows to near-nothing once they attain the size shown here. They are slow to trust but once they bond with someone they become extremely protective and will not hesitate in sacrificing their life for their chosen master. They were taken from the wild at one point but by now almost all of them are from domesticated stock.
Uncertain Future
'When a spirit inhabits your mind it is sometimes a gift and always a curse. Many of the possessed are driven into isolation by society once the physical manifestations become significant. The fear and hostile attitudes generally held towards spirits is well deserved as they can quickly turn destructive and corrupt large populations with evil schemes and heresay.
For some the transformations stop at a certain point. For others the changes stretch out through centuries, extending their life and creating an entirely new being completely unrecognizable from the original creature.'
- from the teachings of Aldrik of Fourth Fall, Master Demonologist.
Marcorth
Marcorth is an extremely powerful demon with a vast army of shambling slimy decaying things at his command. He's a giant bloated corpse that's animated and possessed by a colony of demonic worms and snakes. There are hundreds of the larger worms and countless thousands of tiny ones that make up "him" but they all move and think as one entity with a thousand eyes. If Marcorth feels like it though individual worms can range far from the host and act as remote eyes and ears, typically traveling as parasites in an unaware host, influencing his thoughts and actions. His voice sounds like a thousand whispers that seem to originate right beside your ear even if you are far away from him. It's a whisper but at the same time it's so loud that it drowns out all other sounds and pains the ears with a sickly chill.
A Gate Keeper
Along the northwestern border of Eternalfold (a world from my dreams) there is a vast mountain range that's devoid of most life and infested with supernatural demonic creatures and dragons. Scattered throughout there are carved stone gateways that the demons believe will bless them before they raid their neighbours (they're an extremely superstitious and ritualistic bunch). This painting gives you an idea of what a small gate and its keeper would look like. The top of the carved stone there is a little over 20 feet in height, while some gates can have carvings that are thousands of feet in height, hundreds of feet apart and are protected by a suitably larger and more twisted creature. Somehow long ago it was discovered that recarving the stones to mirror images of each other would create a seal that no demon would want to venture through and now the kingdoms closest to the mountains spend large amounts of resources forming expeditions to find and seal the most threatening gates.
Anneli's Claw
Named for the skyship builders who first successfully navigated Demon Spire and charted no less than five jetsreams, Anneli's Claw is the safest connection between the forest artisans of Jeroen's Garden and those living near the Stoic Trinity. Skyships are the lifelines of these mountain kingdoms as there are no major water roads within ten thousand leagues of the Stoic Trinity. Along jetstreams in the air skyships cover vast distances with minimal effort on the crew's part moving tonnes of cargo far faster than any other method. (perhaps there are faster magical and arcane methods but those are impractical for common situations) There is a small risk of dragon attacks but most vessels are designed to visually mimic air jellies which the dragons avoid. The real danger is sudden weather shifts and the wrath of angry spirits, leading many crews to strict adherence of rituals, spirit appeasing, and even live sacrifices before departing a city.
The 23 Afflictions
The Great Hall of Khan Pyry. An eclectic mix of additions, patches, and the bones of at least five previous castles stretching for several miles. Named for the 22 groups that form Pyry's empire which he affectionately refers to as his "afflictions" and a 23rd "affliction" that he keeps secret from all but his closest friends. Shown here is the final section of the Hall as one might experience it approaching the throne area. Between the ancient trees holding back crumbling walls gigantic stone carvings of the most prominent spirits watch over guests seeking the Khan's precious attention. Off in the distance the stairs leading up to the throne are flanked by thousands of banners and flags of all the defeated powers that have now become part of this empire.
Stoic Trinity
Here Kyllikki Oskari and Goran, along with some fellow demon hunters, are about to board an armored zeppelin that will take them even further north beyond all friendly civilization. Kyllikki had traveled to Briga Dun a few days earlier with Oskari and they convinced Goran to aid in finding the remains of Kyllikki's mate and bring peace to his disturbed spirit. Goran carries in him a spirit of war that is always attempting to control his actions and thoughts so his motives for helping Kyllikki and Oskari are twofold. It's risky for Kyllikki and Oskari to enlist the help of a possessed fighter but they need his supernatural toughness and power to be able to travel through the demon's realm with minimal numbers and still stand a fighting chance.
Thaumaturge
A wonderous worker of magical wolfy miracles.
Fruit Monger
A fruit selling deer from my Eternalfold world.
Stalwart
An example of a successful merchant's bodyguard from my fantasy world. Often they are adorned with a few pieces of jewelry and rare materials in their uniforms to complete the merchant's image of copious wealth. Underneath the splendor however is a rugged and loyal fighter, quite capable of keeping his master's riches (and his pay) out of bandit paws.