Chnakt
A commission for Carci. Done with Winsor and Newton acrylics, Copic Markers and a bit of Photoshop coloring.
Penny and Monster
A commission for Penny of her sadness demon.
Nasra
A commission of Nasra the kitty archer! Acrylic painting.
Frost the Musician
A commission of Frost the wondrous musician. Done with acrylic paint and a touch of watercolor in a few places.
Faustorian Mavendorf
Presenting the amazing fantasical Faustorian Mavendorf! A most magically oriented but mechanically inclined Kellashee of a quite dexterous nature. Watch as his ethereal-based spatial inter-dimensional and temporal mobility appendages prove most helpful in replacing electromagnetically active photon production pods. Acrylic and digital painting.
Xeila Pinup
Xeila Snoshade working away on some delicate magical project in hir study. Acrylic and digital painting.
Rajesh Portrait
A commissioned portrait of Rajesh.
Ballad of the Soulful Giraffe
Zarafa the giraffa singin' his song,
Animosulo
An early version of Animosulo. I think he is now red.
Almus Rayne
A commission for Almus Rayne.
Serval Spirit
A commission for Spottacus.
Indian ink and slate rock scans
Kalor
It's Kalor! A commission for Cat.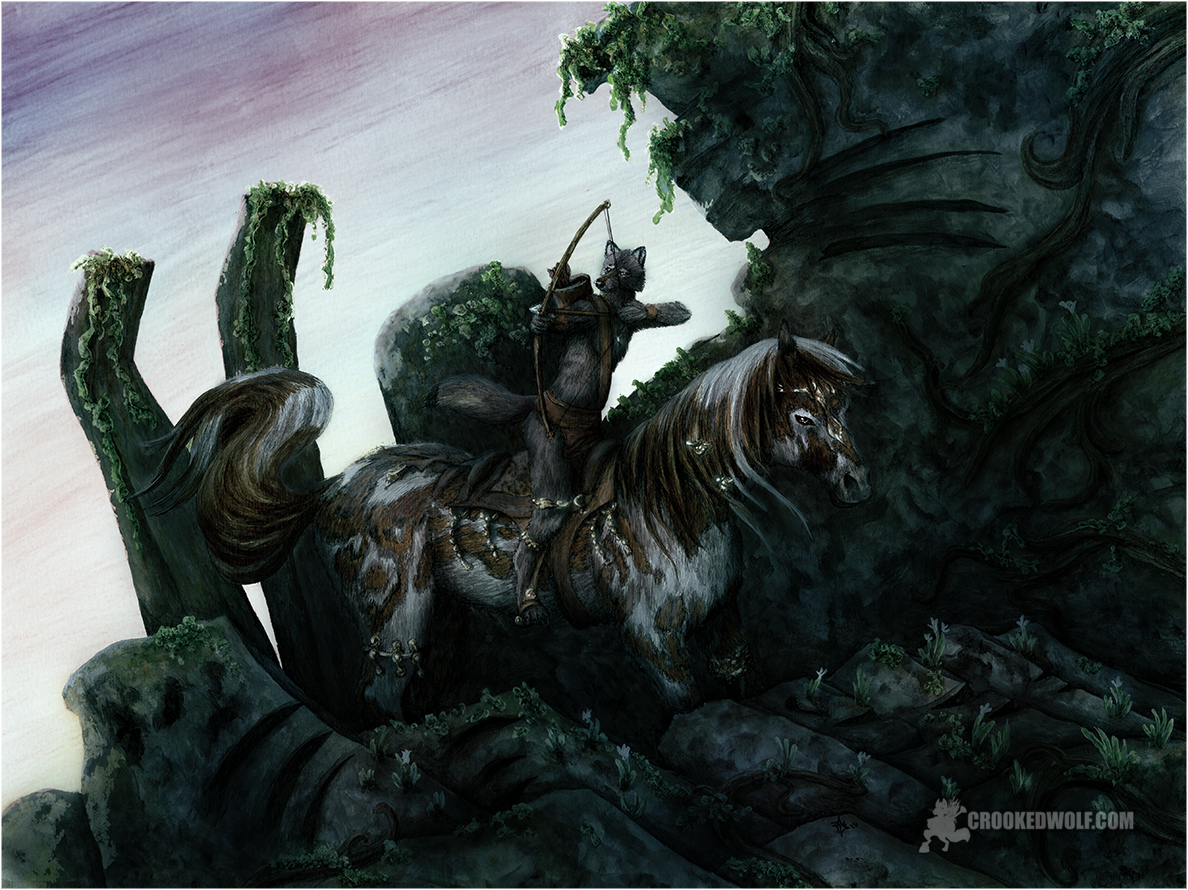 Chaser
A commission for Awssassin. Acrylic and digital.
Gitano Donkey
Gitano the dancing donkey!
Frank's Amazing Story
A commissioned piece for a friend that is much bigger in real life. Try to imagine it 4 feet tall. The name is a reference to the science fiction illustrator Frank R Paul and the work he did for Amazing Stories that inspired the conversation that lead to the creation of this painting.
Shale on the Rocks
A portrait of the distinguished Shale.
There's No Running Under Water
A commission for Kiba Cheetah. Be careful what you fish for.
Teron Gray
A badge for Teron Gray. Done with acrylic paint and a bit of photoshopping for the text.
Howll's Bearform
The art for Howll's bear-wolf badge.
Furlesque Badge 2
The art for Furlesque's badge.
Drekahna
This is Shebawolf's ( http://www.furaffinity.net/user/shebawolf145/ ) Drekahna the mighty thyladire warrior with the spoils of her recent hunt.
acrylic and some watercolor for the sky (2010)
From the Abyss
A painting for Kiba Cheetah! This creature was inspired by the Shriekmaw illustration Steve Prescott did for Magic the Gathering.